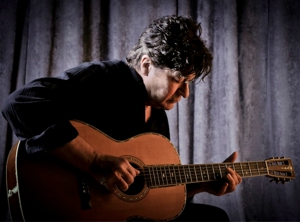 After more than 50 years as a professional musician, Robbie Robertson feels entirely comfortable doing things his own way. The former guitarist for The Band no longer creates music just because he hasn't released any in some time. He doesn't craft records just for the sake of crafting records. It's much more calculated than that'there has to be something truly inspiring behind each creative endeavor. Robertson is entirely comfortable with taking a 13-year break from recording albums under his own name, instead focusing much of the past several years on his partnership with Dreamworks'working closely with director Martin Scorsese on the music for the films Gangs of New York, The Departed and Shutter Island.
After being approached by longtime friend Eric Clapton to collaborate on some new music together, Robertson seized the opportunity to jump back into the studio to create How To Become Clairvoyant. Inspired by his recent film projects, he casted an impressive list of musicians to play specifically-assigned roles on the new record, including Clapton, Steve Winwood, Robert Randolph, Tom Morello, Trent Reznor, Angela McClusky, Taylor Goldsmith and others. The end result stands as what Robertson considers 'the most fulfilling record I've ever made in my life.' Paste recently caught up with Robertson, who spoke with us about the new record, how film inspires the way he creates music and potentially working with Levon Helm and Garth Hudson again.
Paste: How To Become Clairvoyant is your first record since 1998. Why the long break between records?
Robbie Robertson: It's because I don't think of it that way. I don't feel like I'm on an album treadmill, that I'm on any timelines, deadlines, anything. At this stage, I really feel good about doing projects that I'm inspired to do, rather than because someone expects me to do something. I've been doing this a long time so I think I can do better work if I'm allowed to do these things when the stars are aligned.
Paste: I know you've been involved with a lot of projects during the years between albums. What have been some of the highlights for you?
Robertson: A lot of highlights. I had a great experience with Dreamworks. I really respect those people there'When they asked me to come in and do some work with them, they said, 'here's the sandbox, you can work on animated films, live action films, new artists. Anything you want to do' you have free reign, work on your own projects, whatever.'
So while I was doing that, I felt very strongly about the idea of just gathering knowledge'broadening the horizon, having experiences and challenges that I haven't had before. That really, that gets my juices flowing. That excites me'While I was there, I worked on probably three different movies with Martin Scorsese. I worked with Oliver Stone, I put together the anniversary box set of The Last Waltz (the soundtrack and the movie), I put together A Musical History: The Band. I was doing a lot of things with them, and a lot of things with my own projects that I had to do.
Paste: You've said that How To Become Clairvoyant is your most personal record yet. Why this album, particularly after so many years of writing music?
Robertson: I don't know, I'm not sure of where this comes from. I have some theories, because a lot of times in the creative process you just follow the path. Something's happening, and if you're drawn in that direction, you just lean in that direction. That's what happened on this record. I didn't go into this saying, 'now, I'm going to the most personal work of music that I've ever done.' That never crossed my mind'I didn't realize that was happening until I was deep into it. I don't know if it's because there's been enough distance that I can now reflect on these things in a way that I feel comfortable with it. I don't know if it's because I was working with my old friend Eric Clapton, that I felt more comfortable sharing these stories with him. I just am not sure'in the future, when I do become clairvoyant, then I'll know for sure.
Paste: If the personal aspect wasn't what you had in mind going into the record, what did you have in mind when you first started to write these songs? Was it your original intention to work with Eric Clapton from the very beginning or did that arise later?
Robertson: The person whose been doing this for as long as I have' I think when you go into this, you're feeling like 'I'm just excited to do really good work and I want to write some really good songs, I want to make some really good music.' That's all it is. There's nothing that deep about it in the very beginning. As you get inside this bubble and start feeling the emotions that are coming out of the music, what the writing is unveiling to you. What rises to the surface in this process is either exciting and the results of that are something you're very happy with, or they're kind of like business as usual'it's ok, you've done a pretty good job here and everything.
In this project, from where I started with it, it was just Eric and me kicking around some ideas, saying 'you know what, we should do something together.' It was no more complicated than that. When he invited me to come to London to work on this record, I thought, 'ok, we should roll up our sleeves and really do something special with this.' I got inspired by that idea'I don't know how many more times him and I in our lifetime are going to have the opportunity to collaborate in this kind of way. I wanted to make something special of it'so that lifted it to another level.
After we did our experimenting over there, where we cut all the tracks for this album, Eric said to me' because this could've been an Eric record, or a duet record or a Robbie record; it was all in the making, it was all natural and I like that idea. But I did feel particularly ambitious about it. After we cut the tracks, he said to me 'this is obviously going to be your record, that you've done most of the writing'the erection, the focus of it from your ideas. I'm excited to be a part of this and support it in any way I can.'
At that point, when we finished cutting the tracks, I had to leave this behind and go work on the music for Martin Scorsese for Shutter Island'which was an extreme musical departure that turned out to be a blessing in a way because when I came back to this record, there was a clarity that I've never felt like this. Usually when you go into make a record, you come in with a few songs and you beat your head against the wall until you're done. That's the process. In this, having that breather, I came back and thought 'yep, I would like to work on this song with Tom Morello, I'd like to do this with Angela McClusky singing background vocals, this would be great with Trent Reznor.' I've got all these things'I had clarity in it. The biggest clarity was the writing, where I wanted to go in finishing up the lyrics and write these songs. At the end of the day, the results turned out to be above and beyond what I had gone into this imagining anyway. This could be the most fulfilling record I've ever made in my life because I had that opportunity to stand back, make choices, cast the right people in the right place. When I was done with it, I said, "that's it, that was exactly what I wanted to do.'
Paste: So with the individual guests and those parts they played, you knew exactly where you wanted each musician, or did you have a laundry list of people you wanted for the project?
Robertson: No, no. This was it. This was everyone that I had on the list, and I worked with everybody that I was casting'to put it in movie terms. I thought on 'Axman'' the things I did with Tom and Robert Randolph, they're both guitar players that play something that I don't understand at all. It is so different from what I do, that I'm fascinated by it and the history of how they approach the instrument. That was the chore. Eric and I had already laid the groundwork on this record'I play more guitar on this record than any other record I've ever played in my life. It was because I was launching it'it was natural with Eric and I playing off one another, almost like the lyrics and guitar playing was the same thing.
Paste: Isn't fellow contributor Taylor Goldsmith and his band Dawes going to be your backing band now too?
Robertson: Yep.
Paste: Why did you choose them to support you moving forward?
Robertson: Taylor did some background vocals for me'several of them, where he got to sing harmonies with Eric Clapton and me and Angela McClusky. He did such a great job in doing it that I wanted to discover more about his musicality. I really like this band'they are a real band. It's unquestionably song and music first, and it's not about trendiness or about following any fads or anything like that. They are music guys.
Paste: What other modern acts are you currently intrigued by other than the bands you've worked with? I noticed that you have a Twitter account now and The Black Keys were recently given a shout out.
Robertson: There's lot of groups that do things here and there that excite me. I was at the Juno Awards'Arcade Fire won some things. I just think that they're effort is really special. I think that they're coming out of a complete artistic place, and so I stand back and applaud that. But I like some tracks by Sleigh Bells, I like Autolux, Grizzly Bear. I think that Danger Mouse does interesting work with people.
Paste: Do you still talk with Levon Helm and Garth Hudson? What's your relationship with the surviving members of the band? Do you think you'll end up making music with them again in the future?
Robertson: I just have the deepest appreciation for these guys, in the brotherhood, in music' the things we did together, to me, are just treasures in my lifespan. That's irreplaceable. I very much miss Rick [Danko] and Richard [Manuel]'I love Garth and Levon and wish them all the best things in the world. If it should come up at some point, if there's something for us to do together. I mean, we've already done plenty together, but there's something special that we've yet to do together, then I completely look forward it.
Paste: What are you looking for to doing next after the solo release passes? Will you be returning to Dreamworks to do more work with them or something new?
Robertson: I'm not doing the thing with Dreamworks anymore. I'm sure that I'll be working on other film projects, just because that's part of my DNA at this point. The next thing that's right in front of me that I'm really looking forward to is in a couple of months, I'm going to start writing my autobiography. I'm not working with a ghostwriter or anybody so I've got to roll up my sleeves and tell these stories as honestly and boldly as I can.